Shoulder & Elbow Fellowship
ASES Sponsored
Jonathan C. Levy, MD
Ross Wodicka, MD
Holy Cross Orthopedic Institute
Attn: Janice Shuck
5597 North Dixie Highway
Fort Lauderdale, Florida 33334
Phone: (954) 489-4577
Fax: (954) 229-8698
Email: [javascript protected email address]
Affiliated Hospital -- Holy Cross Hospital
4725 North Federal Highway
Fort Lauderdale, Florida 33308
Duration: 1 academic year
Number of Fellows: 1 fellow per year
Fellowship Description

The Shoulder & Elbow fellowship at the Holy Cross Orthopedic Institute provides exposure to a high volume community-based employed physician practice exclusive to shoulder and elbow surgery. This fellowship uniquely focuses on comprehensive training through an academic model in a non-university setting -- preparing the fellow for future roles in academic centers as well as non-academic community models. The Holy Cross Orthopedic Institute has been a regional leader in orthopedics and innovation for over 40 years. Each year, the shoulder and elbow fellow will participate in over 600 surgical procedures, with a high volume of primary and revision shoulder arthroplasty (over 350 cases), advanced shoulder & elbow arthroscopy (over 200 cases), shoulder & elbow fracture management, open shoulder reconstruction, elbow ligament repair/reconstruction, and elbow arthroplasty. Surgical volume is split evenly between inpatient and outpatient procedures.
There are typically two surgical days and two and one half days of office hours. The office setting will prepare the fellow with the key diagnostic tools needed to evaluate and treat all aspects of shoulder and elbow pathology – including diagnostic and therapeutic in-office ultrasound. The experience in the office will give excellent exposure to critical aspects of practice management including proper documentation and coding skills.
Together with the dedicated research staff at the Holy Cross Research Institute and the Holy Cross Shoulder and Elbow Repository tracking over 6500 patient surgical outcomes, the fellow will be able to collaborate in active ongoing clinical research and will be encouraged to complete at least one clinical research project. ER call is at Holy Cross Hospital (community hospital) together with a physician assistant (typically 2-3 times per month). Prospective applicants must be able to obtain a Florida State Medical License to be eligible for the fellowship.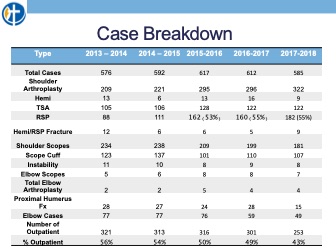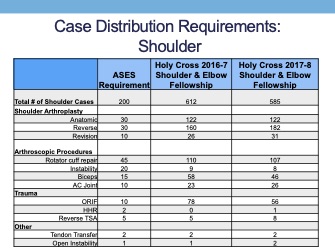 ×
×