Holy Cross Orthopaedic Institute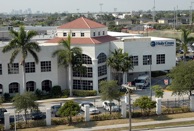 The Holy Cross Hospital Orthopedic Institute's team of Physicians, Nurses, Therapists and staff are committed to providing compassionate care and utilizing cutting edge technology. Our mission is to provide the highest quality patient care to you and your loved ones.

This commitment was recently recognized nationally. A few years back, US News & World Report ranked Holy Cross No. 22 in the nation for Orthopedics and No. 1 in the state of Florida for orthopedic services. The Orthopaedic Surgeons at Holy Cross have helped Holy Cross Hosptial maintain its status as the top Orthopaedic Hospital in the state.
Appointments:
Fax: (954) 958-4899